Fall tickseeds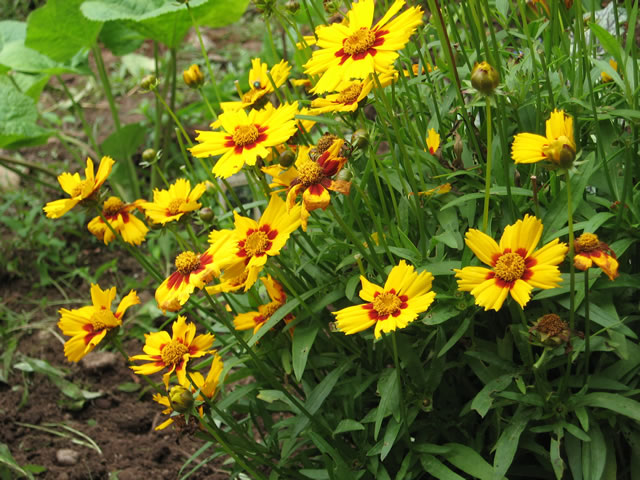 The closely related Bidens and Coreopsis are known as tickseeds. The white-flowering Bidens species that Willodene Matthews brought back from south Alabama contributes great sparkle to the backyard garden in autumn.
The one-and-a-half-inch composite flowers consist of a ring of broad white ray flowers surrounding a center of orange disk flowers. The seeds, which are manufactured by the thousands, are needlelike stick-tights with an exasperating proclivity for working their way through clothing and into bare skin.
Make no mistake about it, this is a weed, but a worthwhile weed when well managed. It reaches five feet in height with an equal spread, so it is best to force compact growth by cutting back its segmented foliage a time or two during the season. My friend, Inge Paul, grows Bidens polylepsis, a larger-flowering golden tickseed, which, like the white species, is a perfect companion for Salvia coccinea and other late-flowering salvias.
October chores
It's tempting to let the garden go now, since all the world is a bit of a mess at this time of year, but then, of course, we realize that our asters, for instance, will show to better effect if they're not overshadowed by a twiggy forest of dead and dying Rudbeckia triloba. And so a bit of housekeeping is in order.
If we look carefully, we'll see seedlings of next spring's larkspur and nemophila coming, up, so it is imperative that we get down on all fours and scratch out the germinating violets and dead nettle that will surely shade them out if they're not dealt with quickly. (I have few such weeds in the front-yard beds, where a resident from the distant past evidently had a real lawn and no doubt eradicated the competition with broad-leaf weed killers. The backyard beds, however, are a different story.)
If seed of butterfly weed (Asclepias tuberosa) is to be collected, now is the time, for soon the okralike pods will split and the seeds will be transported on gossamer wings to parts unknown.
The twin seedpods of Amsonia tabernaemontana, too, will soon spill their cargo. Amsonia seems to seed itself rather inefficiently in the wild. But you or I can peel open the pods, and the cigarlike seeds, which are lined up single file like the cars on a train, will stream out into an envelope, which we can refrigerate until spring. Better yet, we can go ahead and shallowly plant where we hope one day to see more cool blue amsonias.
October is the perfect time to set out pansies, for they'll have a chance to become established and start to grow before the really cold weather stops them in their tracks. They'll also be more likely to put on a welcome show during winter warm spells. If I could bear to rip out my fall marigolds and the melampodium, I would certainly set my pansies out in October. As it is (as I am), I set out my pansies as I clear my beds after frost, in November. Usually I mix in a handful of organic matter (the ground-up leaves, grass clippings, and pine straw I've just collected from the neigbbors' curbs), fertilize, water, and mulch them well. Be sure to keep your pansies watered, both while they're in the flat and during winter dry spells. Even though they're mulched, pansies grown in raised beds are quick to dry out in sunny, windy winter weather.
I mulch all the shrubs heavily in fall and mulch each mixed bed as I clean it off. I heap pine pine straw around the azaleas, rhododendrons, and dogwoods.
If you've ordered bulbs of nips, daffodils, anemones, lilies, or the like, set them out as they arrive or store them in the vegetable bin, checking on them frequently to make sure they don't dry out.
Gather materials for winter arrangements and hang them upside down to air-dry in a warm, dark room. Salvia, Silver King' artemisia, purple coneflower, dusty miller, goldenrod, hydrangea, lamb's ears, Queen Anne's lace, zinnia, and ornamental grasses are relatively easy candidates for drying.